I've never quite understood the concept of the EP. It's neither one thing nor the other. The first one I ever bought was The Human Leagues' Holiday 80 EP, 3 tracks with a total running time of just over 10 minutes. Cardiff based glamsters Buzzard Buzzard Buzzard have released, by comparison, a behemoth. The Non-Stop EP contains 10 tracks, and with a running time of over 30 minutes, you certainly get your money's worth in more ways than one.
Buzzard Buzzard Buzzard are Tom Rees (guitar and vocals), his brother Ed Rees (bass), Zac White (guitar), and Ethan Hurst (drums). If you haven't heard them before, their sound can best be described as psyched-up, glamed-up, indie guitar rock. Written, produced, recorded and mixed by Tom Rees, The Non-Stop EP appears to be very much his baby. And what a beautiful baby it is too.
The EP starts with an ideal introduction to Buzzard Buzzard Buzzard's oeuvre. Double Denim Hop and Late Night City are modern re-imaginations of high-glam. The guitar riffs, Hurst's cymbals and high-hat, and even Tom Ellis's vocal delivery, wouldn't have appeared out of place on T-Rex's Electric Warrior or Slider albums.
I sometimes feel that early Seventies music, especially the glam era, gets written off as too blithely, as a bit of fluff, or as bubble-gum pop; but there was a darker underbelly to period. The next few tracks on side one certainly veer into that territory. Stockholm City Rock and recent single Hollywood Actors move into heavier, dark recesses. Everything is turned up a notch, drums crash, guitars wail, and extravagant solos are allowed to burst forth. Stockholm City Rock in particular sounds like, in title and in content, a New York Dolls song.
The final song on side one, Theme From Early Morning City, like it's twin brother on side two, Theme From Late Night City, is a tiny piece of Peter Green-like, bluesy, leit motif.
Side two starts with Long Day/Free Day, a lament to wasted time. It starts in the manner of an acoustic folk song, with just Tom Rees and his guitar. As the song develops, other dimensions are added with layered backing vocals (some of which seem to have been re-appropriated from a previous release Love Forever) before it finishes in a full-on, all-band, all-electric crescendo.
As protest songs go, What Is Hate must go down as one of the most upbeat, rock steady, R&B tunes to tackle the subjects of hate, greed and fear. There are some great lyrics including lines such as, 'Come on, Can't you feel the love in the room, Hate is just a rusty knife, and love is a magical spoon'. By the time the last 'ba, ba, ba-ba, ba' vocals finish, and the last vibrant tambourine notes disappear, you almost feel positive for the future.
If Buzzard Buzzard Buzzard have a manifesto song then it would be the deceptively simple, sing-a-long tune, John Lennon Is My Jesus Christ. In the style of Brave New World, Tom Rees re-appropriates his influences as deities: 'John Lennon is My Jesus Christ…Marc Bolan is My Maharishi…David Bowie is my Henry Ford…Bill Fey is My J.C. Bose'. The song is a highlight of Buzzard Buzzard Buzzard's live sets, although this version seems to have stripped of it's instrumental bridge section, (a point where crowds are normally treated to Ellis's full range of Jaggeresque dance moves).
The final track on the EP is Sugarloaf Mountain Crucify Me, a poignant, almost cathartic, epic. It's an autobiographic sonata in 3 movements. The first part of the song has an honest Ellis with his guitar listing his hopes and feelings towards his loved ones: Mother, Father, Sister, Brother, Partner. My favourite lines are about Ed, 'Brother, I hope you know, There's no need to stay in my shadow, Go on man go steal the show, you're a Rocket-Man you're no John Doe.' The second movement hits you with everything – searing guitars, drums, strings, echoing backing vocals. It's very Abbey Road period Beatles, until we are brought back to earth as Ellis sings the final lines that see him climbing the slopes of Sugarloaf to murder his ego and ghosts.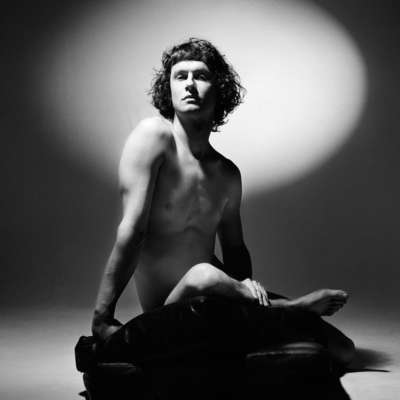 The art work by Matthew Cooper and Edwin Burdis, and photography by Sian Adler, deserve a mention in their own right. The monochromatic front cover boats the image of a naked Tom Rees, posing like a renaissance sculpture – Cacus from Hercules and Cacus by Bandenelli for example.* Equally striking is the inside cover, a slightly homoerotic image of Tom Ellis again (I presume). With hands placed on hips, we slightly glimpse the chiseled small of the back, redolent of The Smiths Hand in Glove.
If you are what would have been referred to in the seventies as a 'Bread-Head' then this is the EP for you. With The Non-Stop EP, Buzzard Buzzard certainly give you more bang for your buck. It's released on Communion Records or available from your preferred music provider.
Ian Dunphy.
*I'll be honest with you, I had to look that up.
Photo Credit: Pooneh Ghana