The third instalment of Booze Views is here, the feature that puts your views online, giving you the chance to let your local know just why you love them so much. This week, we've had people answering questions about Crooked Brewing Ltd, a small brewery in Yorkshire.
Who are Crooked Brewing?
Based at Leeds East Airport, an old RAF base, Crooked Brewing has its roots initially as a "learn to brew" outlet, where owners Steve and Andy taught people how to brew beer. As they became more popular the decision was made to open their own brewery. A long journey since has led to them opening my local, York's beloved Crooked Tap and it's their regulars that have answered this week's Booze Views.
Want to know more about the Crooked journey? Listen to our podcast with owner Steve, recorded during lockdown right here.
What's the best thing about the brewery?
The first question in Booze Views always throws up some belting answers and we had 8 to choose from with Crooked. The main theme that ran through most of the answers wasn't necessarily to do with their beer, rather their tap room aforementioned and their community involvement.
Kevin Forth commented, "The way they involve the community in everything they do" is the best thing" with Simon Nichol adding to that with "Community inclusion and openness to feedback". I've found that myself actually heading down there, whether it's the owners, brewers or taproom staff, they love feedback and want to provide the best quality.
When it comes to the beers, Jackie & Steve comment on the variety, saying "Variety. There is always a great range to choose from." It was also pretty clear from other responses they work hard to ensure that range is kept fresh and updated with Matthew Baines adding "An honest effort to bring good beer to like minded people."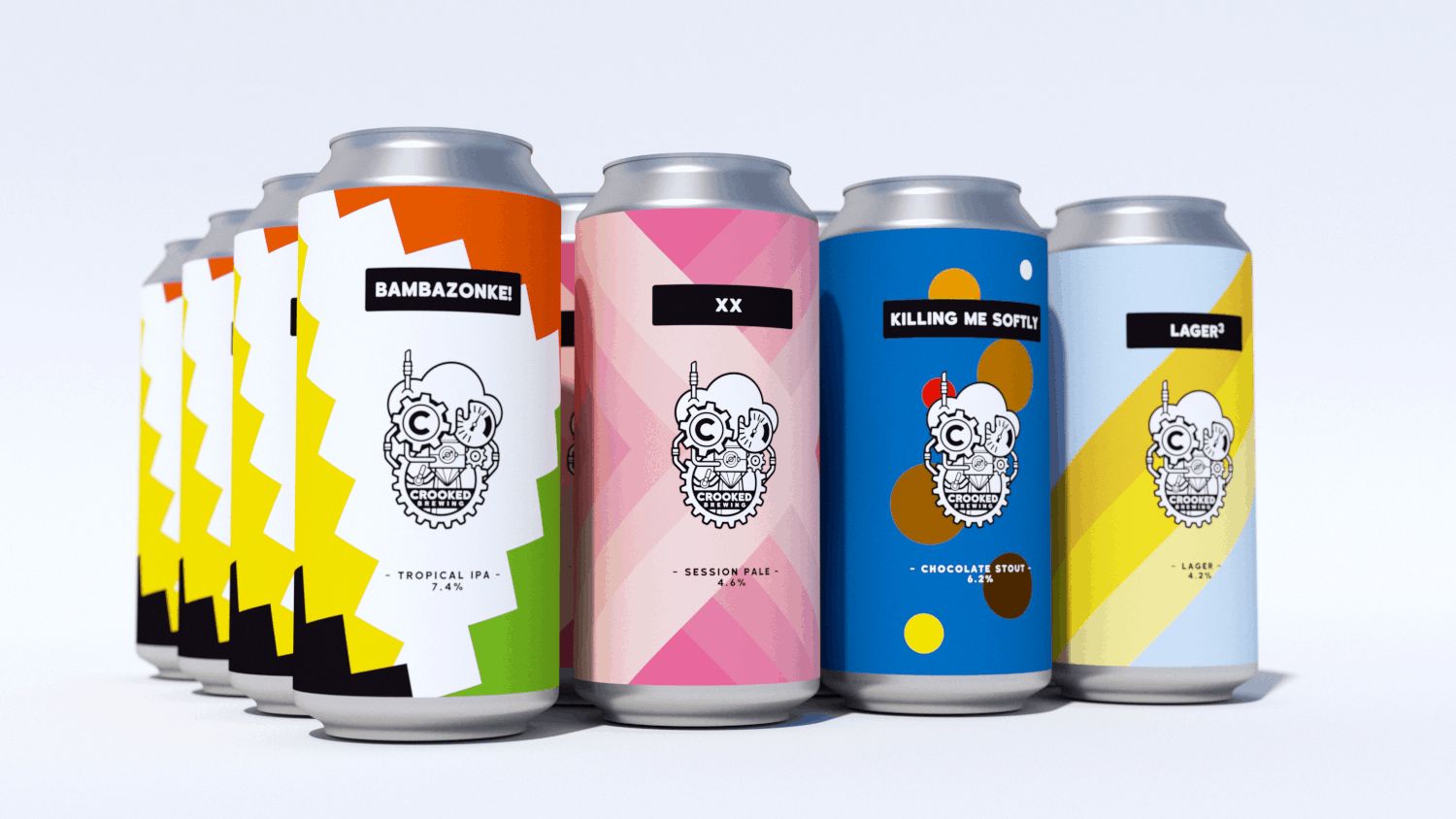 What's the best beer Crooked brew?
I enjoy the Crooked range; as you can see from the above the branding is on point and from the four beers above, you can see the range, from pale ales, to lager, to chocolate stouts.
It is the dark beers that get the most votes in this week's Booze Views with three people choosing Killing Me Softly, their 6.2% Chocolate Stout. Jimmy commented:
"It used to be pvg.. Once described as a fight between pineapple and grapefruit where the pineapple had a knife and the grapefruit a machine gun….. It gave it a real bitterness which I enjoy…. Now whilst the xx is a great beer I could drink all day my favourite is the killing me softly chocolate stout. If you haven't already try it with a scoop of ice cream in it as a float."
I have tried it with the ice-cream scoop and it's fantastic. Velvety, smooth and it adds so much depth to the beer.
The XX mentioned above also had a mention with other favourites including Lager3, Calaboose, Bambazonke and The Green.
Can you recall your favourite memory featuring the beers brewed by the brewery, or at the brewery itself?
My favourite question of Booze Views without doubt. As a regular down the Crooked Tap I was looking forward to these responses and they didn't disappoint.
Matthew Baines kicked things off with "German night at the crooked tap. Great music, atmosphere and their beers." A fantastic night all round and Jimmy added:
"Our first big event at the tap room was special. Oktoberfest came to Acomb we couldn't of wished for a better response…. Steins of beer we're being swung as we danced on the tables. It's nights like that where the community come together and we all party together that are special."
During lockdown, the Crooked Tap have been doing virtual tasting evenings every Saturday night and there were a few mentions for this with Mick Whiteley commenting on the "insight into what goes on behind the barrel" as the best thing about those evenings.
Other memories centred round events with Andy P mentioning the Christmas Light switch-on and Sarah Byrne noting the Wine and Cheese night as her top memory.
Describe the brewery in three words
Here we go, just three words to describe the brewery! Let's see what was picked!
Community comes first
Progressive, bold, local
Community focused legends
Chilled, friendly, tasty
Fabulous Yorkshire beer
Friendly, original, variety
Friendly, customer focused and relaxed
Determination, honest, friendly
Why should someone who hasn't tried Crooked consider it?
I enjoyed the responses this week for the Crooked feature. Normally we get big long responses to this question but the Crooked Brewing drinkers made it really simple.
Mick Whiteley summed things up nice and easy with "Why not? You'll find a drink you'll drink again." Kevin Forth, Andy P and Jackie & Steve all comment along similar lines, summed up by "Because there's bound to be something you'll love!".
As well as the beer and the range on offer, the tap room kept coming back up as a theme. Jimmy whose a local hero nowadays says honestly:
"There not mind-blowing beers but they are easy drinking good beers. But the main reason you should try them is because if you come to the tap room you'll be welcomed like we already know each other"
I love that as a response, good beer, great people and Matthew Baines offers the conclusion:
"Give them a try and support a local brewery and a local tap room with great staff and atmosphere"
A great brewery in Yorkshire and an even better small local tap room. I think it's a brilliant establishment made by good beer and incredible people.